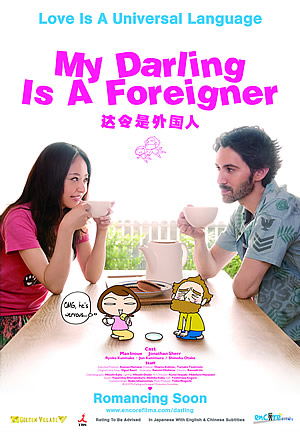 Title:
ダーリンは外国人 / Darling wa Gaikokujin
English title:
My Darling is a Foreigner / Is He Turning Japanese?
Genre:
Romantic, Comedy
Release Date:
April 10, 2010
Runtime:
100 min.
Director:
Ue Kazuaki
Screenwriter:
Oshima Satomi
Synopsis:
"My Darling is a Foreigner" tells the quirky story of a Japanese woman and an American man as they enter into a relationship and eventually marry. Saori is a manga artist. She meets language geek Tony, who has arrived in Japan after falling in love with the language. As the couple become closer, Saori is inundated with strange questions about the language from Tony. Are these weird questions a trait of his foreign background? Or is it because of his linguist preoccupation? More importantly, can their relationship survive?
Cast:
Inoue Mao - Saori
Jonathan Sherr - Tony
Kuninaka Ryoko - Mika
Toda Naho - Ryoko
Kunimura Jun - Saori's dad
Otake Shinobu - Saori's mom
Kawaoka Daijiro - Shinsuke
Dante Carver - Franco
Irie Masato - editor
Bando Takumi - Kenji
Patrick Harlan - Paul (English teacher)
Download:
AvistaZ