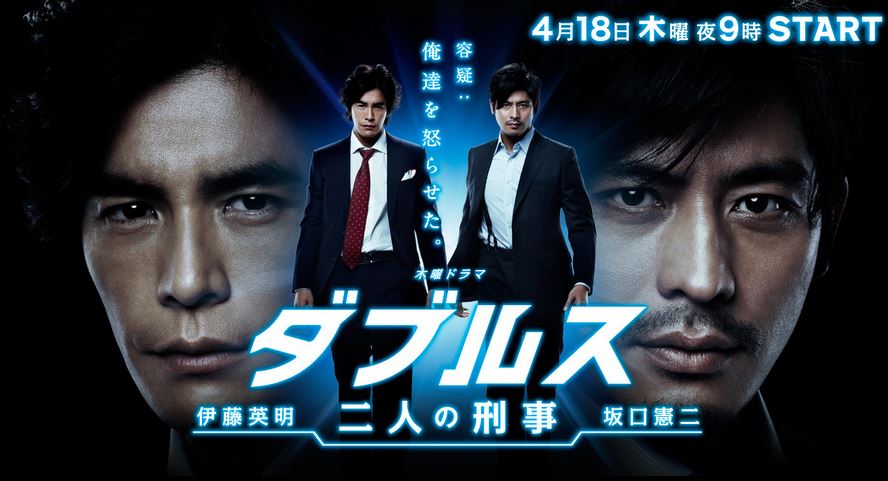 Official site
Title:
ダブルス / Doubles
Tagline:
二人の刑事 / Futari no Keiji
Format:
Renzoku
Genre:
Police
Episodes:
8
Broadcast network:
TV Asahi
Broadcast period:
2013-Apr-18
Air time:
Thursday 21:00
Directors:
Tsukamoto Renpei, Tsunehiro Jota, Komatsu Takashi
Screenwriters:
Ozaki Masaya
Theme song:
Shishido Kavka - Kiken na Futari
Synopsis:
This drama is set in the streets of Shinjuku, where heinous crimes occur frequently. Shinjuku station, with its 700,000 over commuters; West Shinjuku that house all the Government buildings; the top shopping district in Japan; Kabukicho; all of these are what makes Shinjuku a cosmopolitan center, and consequently, the Shinjuku Chuo Police Station the busiest in Japan. With all the murders, rapes, kidnappings, robberies, etc., happening daily. To cope with all these crimes, a special squad has been set up, 「The Special Squad Detectives Division」. Due to Chief Police Maekawa Seiichi's favourite saying, "Let us look at it afresh from zero", the squad which has been set up under his jurisdiction is referred to as Division 0.
The story opens with the transfers of Detectives Yamashita and Tashiro from their respective divisions into Division 0. Both of them may have conflicting views and are of totally different personalities (Yamashita is easy-going and speaks without thinking while Tashiro is serious and goes by the book), but what they have in common are their sense of righteousness and their compassion for others. They may risk their lives in their fast-paced investigations, but this magnificent combo will always catch the bad guys in the end.
Cast:
Ito Hideaki - Yamashita Shunsuke
Sakaguchi Kenji - Tashiro Keiichi
Watanabe Natsuna - Miyata Aki
Uchida Yuki - Kusaka Ryoko
Kondo Yoshimasa - Yajima Kengo
Muroi Shigeru - Sakata Mieko
Sugimoto Tetta - Sudo Yosuke
Hiraizumi Sei - Kasai Noboru
Hashizume Isao - Maekawa Seiichi
Kazami Shingo - Ota Kouji
Yamaguchi Daichi - Murai Shota
Hasegawa Tomoharu - Makino Satoru
Nagae Yuuki - Hashimoto Ryo
Isaka Shunya - Nishimura Naoki
Horibe Keisuke - Tazaki Manabu
Hayashi Dandan - Maruyama Kazumi
Miura Aoi - Wada Noriko
Shiina Misumi - Adachi Haruka
Morioka Yutaka - Okabe Atsushi
Download:
D-Addicts