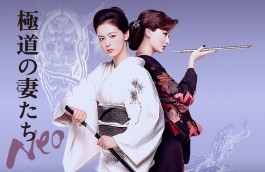 Title:
極道の妻たち Neo / The Yakuza Wives Neo
Genre:
Action, drama, mature, suspense
Release date:
8th June 2013
Runtime:
Director:
Katsuki Hideyuki
Synopsis:
Kotone is the wife of Mitsuru Kiba, boss of the Kiba gang in the Saikyo Alliance. She hides a girl named Sakura Nishizawa, who is chased by Azami. Azami is the wife of Kato, boss of the Kato gang in the Saikyo Alliance.
Years ago, Azami's lover was murdered by Mitsuru Kiba. To get revenge, she married Kato. Through the girl Sakura Nishizawa, Kotone and Azami unexpectedly meet and become involved in a large conspiracy.
Cast:
Kurotani Tomoka - Kiba Kotone
Harada Natsuki - Kato Azami
Imai Masayuki - Kato Shuhei
Watanabe Gota
Koike Rina - Nishizawa Sakura
Kuroda Arthur
Shimao Yasuhito
Hakamada Yoshihiko
Osugi Ren - Kaneko
Ishibashi Renji
Nagashima Kazushige - Kiba Mitsuru